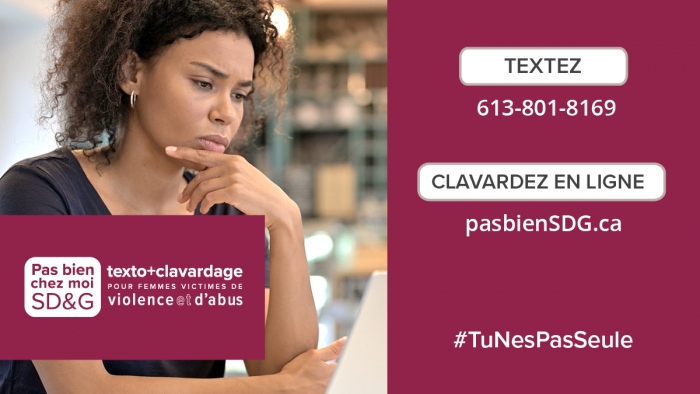 Maison Interlude House (MIH) is proud to offer abused women living in Stormont, Dundas and Glengarry counties a new way to seek support: an online text and chat platform! Unsafe at Home is an addition to the 24/7 crisis line already offered by MIH.

The last two years of the pandemic have had a highly negative impact on abused women. Often already isolated from their loved ones by their abuser, these women have been left alone at home with their abusive partner, sometimes 24 hours a day. In this context, it can be difficult to pick up the phone and ask for help. "It is important for us to offer victims an even more discreet and highly secure way to seek help, 24 hours a day, 7 days a week," explains Muriel Lalonde, Executive Director of MIH.

Simple, Easy and Safe

To use the service, nothing could be easier. Simply visit www.UnsafeAtHomeSDG.ca to open a secure chat session with a qualified Maison Interlude House employee. At the same address, we can also find the phone number to use if the victim prefers to communicate by text message: 613.801.8169. MIH's experienced counsellors are on call 24/7, ready to help women who are experiencing abuse.
The Unsafe at Home platform is based on a similar initiative in the Ottawa area. The great collaboration of the Ottawa team made it easier for the text and chat service to be launched in SD&G.

Now Up and Running

Unsafe at Home in SD&G is up and running today. It is an additional tool that allows abused women to find help. Violence against women is still too prevalent in our society today. Every 11 days in Ontario, a woman or child is killed by a man close to them. In Canada, every six days, a woman is killed by her spouse or ex-spouse. Last year in Ontario, the number of femicides doubled!

About Maison Interlude House

Founded in 1983, Maison Interlude House is a non-profit francophone organization that offers a multitude of services in English and French. Its mission is to raise awareness of violence against women in the community and to support and empower women and their dependents who are victims of violence, in all their diversity. In addition to its shelter for abused women, Maison Interlude House offers outreach services to women in Prescott, Russell, Stormont, Dundas and Glengarry.