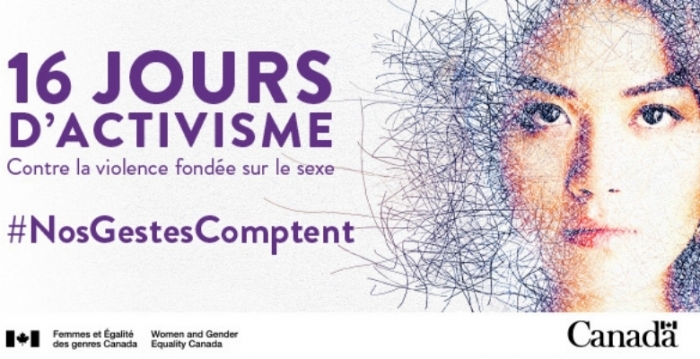 The 16 Days of Activism against Gender-Based Violence is an international campaign that runs annually from November 25 (International Day for the Elimination of Violence against Women) to December 10 (World Human Rights Day). The 16 Days are an opportunity to unite with partners around the world and reflect on what we can each do in our own communities and in our own lives to eliminate the disproportionate violence faced by women, girls and LGBTQ2 individuals.
The 16 Days also include Canada's National Day of Remembrance and Action on Violence against Women on December 6, in remembrance of the 14 young women who were brutally murdered at l'École Polytechnique de Montréal in a shocking act of gender-based violence.
What is gender-based violence?
Gender-based violence is violence that is committed against someone based on their gender identity, gender expression or perceived gender. Every day, women, girls and LGBTQ2 individuals continue to face crisis levels of violence. Over half of Canadian women have been victims of at least one act of physical or sexual violence since the age of 16. Lesbian and bisexual women are 3.5 times more likely than heterosexual women to report spousal violence. Women with a disability are nearly twice as likely as women without a disability to have been sexually assaulted in the past 12 months. Intimate partner violence and sexual assault cost our country over $12 billion a year. Given these statistics, almost certainly, you know someone in your own life who has been touched and forever changed by this pervasive, yet preventable epidemic.
Joining the conversation: #OurActionsMatter
We all have a role to play in preventing and addressing gender-based violence, which is why this year's 16 Days theme is #OurActionsMatter. Between November 25 and December 10, we encourage you to join the conversation and reflect on the concrete steps you can take to question, call out, and speak up against acts of gender-based violence.