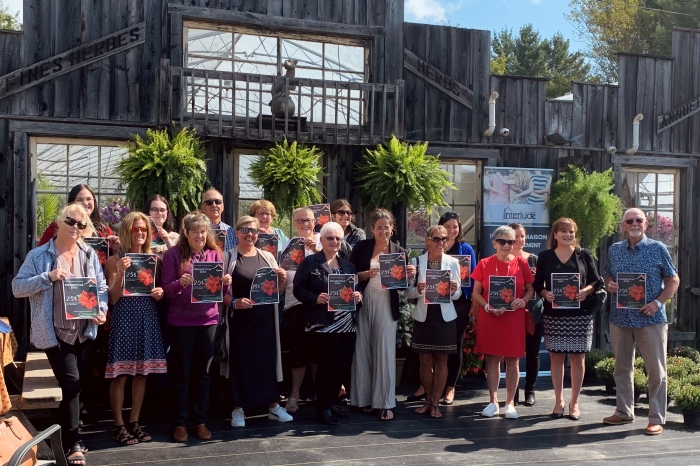 As part of its holiday fundraiser, Maison Interlude House (MIH) needs the support of the community. This year, for the second time, the organization is selling poinsettias to finance its Christmas event: Santa's Treasures.
At this event, women who receive MIH's services have the chance to "shop" for free Christmas gifts for their children at the agency's offices. Maison Interlude House thus makes Christmas more joyful for hundreds of children every year. The funds raised will also support our volunteers network who provide transportation and childcare for our users, as well as running our second-hand store, the PastELLE Boutique in Alexandria.
How to Support the Organization
From today, until November 4, you can purchase poinsettias by contacting MIH. All information about this fundraising campaign is available on the organization's website: www.minterludeh.ca. Poinsettias are on sale for $ 25 each. With the purchase of 5 or more, the delivery of plants is free. Otherwise, buyers can pick up their plants at Serres M. Quenneville, in Plantagenet.
"We want the community to get on board with us! In fact, we are looking for ambassadors. For example, a teacher who offers her colleagues to take all the orders for the entire school! A real estate broker who convinces other brokers in the office to give poinsettias to their clients as well. This kind of initiative would be fantastic! » explains Muriel Lalonde, Executive Director of MIH.
Surpassing last year
Last year, during the first edition of this fundraising campaign, MIH had set a goal of selling 500 plants. This objective was reached in less than 10 days! In the end, 1,360 plants were sold in our community, allowing the organization to raise over $30,000. For this year, the MIH team would like to sell more than 1500 plants!
Other Ways to Help
For those who would like to support the organization in a different way, Maison Interlude House accepts cash donations. It is very easy and secure to do this via the MIH website, by clicking on the "Donate" button. In addition, as part of the Christmas event, the organization is also looking for brand new toys! If you are interested in contributing this way, you can contact MIH at 1-800-461-1842, ext. 208.
Valuable Partners
This fundraising campaign is made possible thanks to the support of several partners. The main partner is none other than Caisse Desjardins Ontario, which donated the amount of $ 7,500 to Maison interlude House. This money will be used to purchase the poinsettias. The organization also relies on the support of Serres M. Quenneville and the municipalities of La Nation and Alfred-Plantagenet.
About Maison Interlude House
Founded in 1983, Maison Interlude House is a non-profit French-speaking organization that offers a multitude of services in English and in French. Its raison d'être is to raise awareness in the community about the issues of violence against women and to support and equip women and their dependants who are victims of violence, in all their diversity. In addition to its shelter for abused women, Maison Interlude House offers a multitude of external services to women in Prescott, Russell, Stormont, Dundas and Glengarry.
To this day, violence against women remains too prevalent in our society. Every 11 days in Ontario, a woman or child was killed by a man close to them. In Canada, every six days, a woman is killed by her spouse or ex-spouse.